Roundtable meeting on Empowerment and Wellness of Migrant Domestic Workers: Explorations for Cross-sector Collaborations between Field & Academic Experts
Conference, Symposium, ForumWorkshop
2023-03-20 ~ 2023-03-20
2:00pm - 5:30pm
Migrant domestic workers (MDWs) contribute to Hong Kong society both through their care work, and by enabling labour force participation, mainly of Hong Kong women. Many observers implicitly assume this is "win-win" for both sides, and specifically that this "importation" of low-skilled labour creates both short and long-term gain for the migrants. However, researchers, NGOs, and practitioners in both Hong Kong and sending countries have highlighted the challenges that prevent this happy outcome. Many have made migrant workers' empowerment and wellness the key pillars of their research, programming and advocacy.
On 20th March 2023, the HKUST Center for Economic Policy and Institute of Emerging Market Studies organized a roundtable event to bring together experts from this disparate community both in Hong Kong and in origin countries, to initiate dialogue that may lead to a shared understanding and enable future collaboration. More than forty participants attended, representing domestic worker unions in Hong Kong, NGOs and academia in Hong Kong and countries of origin, and the Hong Kong consulates of major sending countries . In breakout groups organized by sector and then later by theme, attendees discussed pressing issues and insights that have emerged from their own work, and brainstormed ideas for collaboration and joint action. Professor Sujata Visaria, Director of the CEP and DEAR Programme Leader co-moderated the discussion together with Professor Lucy Jordan, HKU and Professor Barui Louis Waruwu, Baptist U.
Participants highlighted the fact that interventions were needed across the entire journey of the migrant – starting from before they leave the home country, to during their stay in the destination, and upon return. Comprehensive and effective interventions would involve both the migrant and their family in the home country, since migrants' disempowerment and lack of wellbeing often stemmed from issues within their families. It was argued that in addition to pre-departure training, which would include both general and destination-country specific content, migrants' family members should also receive training. This would help them better manage remittances, plan for reintegration of the migrant upon her return, understand the realities of life of a migrant domestic worker in the destination, and manage their expectations. If governments in source countries would make pre-departure training mandatory this would ensure take-up, and NGOs could contribute by training employment agencies, who could deliver the last-mile training to migrants and their families.
Once migrants arrive in Hong Kong, NGOs and employment agencies could collaborate to offer post-arrival information about labour, legal, health and human rights, linking them to sources of social support, and creating social safety nets to protect their wellbeing. Periodic check-ins with MDWs could enable continuing interventions – which could benefit from connections between NGOs on both sides. Although in principle available for free, many migrants have only limited access to health services in Hong Kong, and a case was made for a general health check system catering to MDWs. There is also a need for an at-scale platform for legal assistance and protection.
Given MDWs' long working hours and the "live-in" requirement, employers can have an important influence on MDWs' wellbeing. First-generation employers who did not themselves grow up with MDWs could especially benefit from awareness and training, a change of mindset and an understanding of ethical employment. Participants noted that in Singapore such training is required. NGOs and employment agencies could coordinate with government on the design and implementation of such a programme. To spread awareness some NGOs are already creating programmes targeting the younger generation – if children can learn to be reasonable and kind toward the "aunties" who currently care for them, they will likely grow up to be good employers in their turn.
There are important synergies between the work that NGOs do in source countries and in Hong Kong. For instance, NGOs in source countries can ensure that Hong Kong NGOs deliver to migrants accurate reliable financial information about investment opportunities in home countries. NGOs in Hong Kong can consolidate real life stories of MDWs, which those in the source countries can incorporate into pre-departure information sessions for MDWs. Academic researchers bring their impartial position and disciplinary expertise to the table – they can collect and analyse the data to provide a representative picture of MDWs' circumstances and situation and can disseminate key findings to the public through the media. Through both quantitative and qualitative research, can evaluate the programmes of NGOs, in turn providing the evidence to support those that are most effective. Media studies experts can, for example, collaborate with grassroots organizations to produce works highlighting various aspects of an MDW's life in Hong Kong, that can be shared widely through audio-visual formats and social media.
The rich discussion ended with several participants expressing interest in continued dialogue. It was hoped that future events would also include employment agencies, financial institutions, and groups representing the local Hong Kong population, since these are important actors with much to contribute to the agenda, and it was felt that with their involvement, there would be a greater chance of support from the government of the HKSAR.
On the previous day, 19th March, Ms. Ms. Estrella Mai Dizon-Anonuevo and Ms. Aileen Constantino-Peñas of Atikha Overseas Workers and Communities Initiative in the Philippines led a financial empowerment training workshop for Filipina MDWs. The event was co-organised by Prof. Sujata Visaria and funded by the HKUST CEP and IEMS, and supported by Prof. Lucy Jordan of the University of Hong Kong under the auspices of the HK Research Grants Council's Research Impact Fund grant (R7028-21F).
The 16 MDWs who participated in the training had previously participated in a research project led by Professors Jordan and Visaria, and had expressed interest in learning more about financial management and ways to ensure they can achieve their migration goals. Using tried-and-tested training material that they have developed over many years, Atikha taught them the core principles of successful saving, investing, budgeting, borrowing and getting out of debt. With the guidance of the trainers, participants assessed their current financial situation and created the draft of a financial plan. They also talked in groups about the family factors that led to their migration and the impact of long-term separation on relationships and brainstormed strategies to manage these relationships to mitigate the difficulties and ensure that the family's migration goals can be achieved.
The workshop was a resounding success, and participants consistently gave the content, training method and the trainers top ratings. When asked to single out the workshop topic that was most relevant for them, 50 percent of participants reported "savings", and 38 percent said "communication with family". In addition to gaining new knowledge about these two topics, they also reported new learning about goal setting and budgeting. Eighty percent said they wished they had more time to continue learning further, and they expressed interest specifically in learning more about how to deal with debt, and how to practise self-care. 
With support from the RIF project, it is expected that the team will remain in contact with the workshop participants and will both assess their retention of the new information and understand how they apply their new knowledge and skills in their lives. The learning from the experience of this workshop will also inform the design of a new impact evaluation project funded by the Asian Development Bank where Visaria and Jordan hope to collaborate with Atikha and other partners in the Philippines.
Roundtable meeting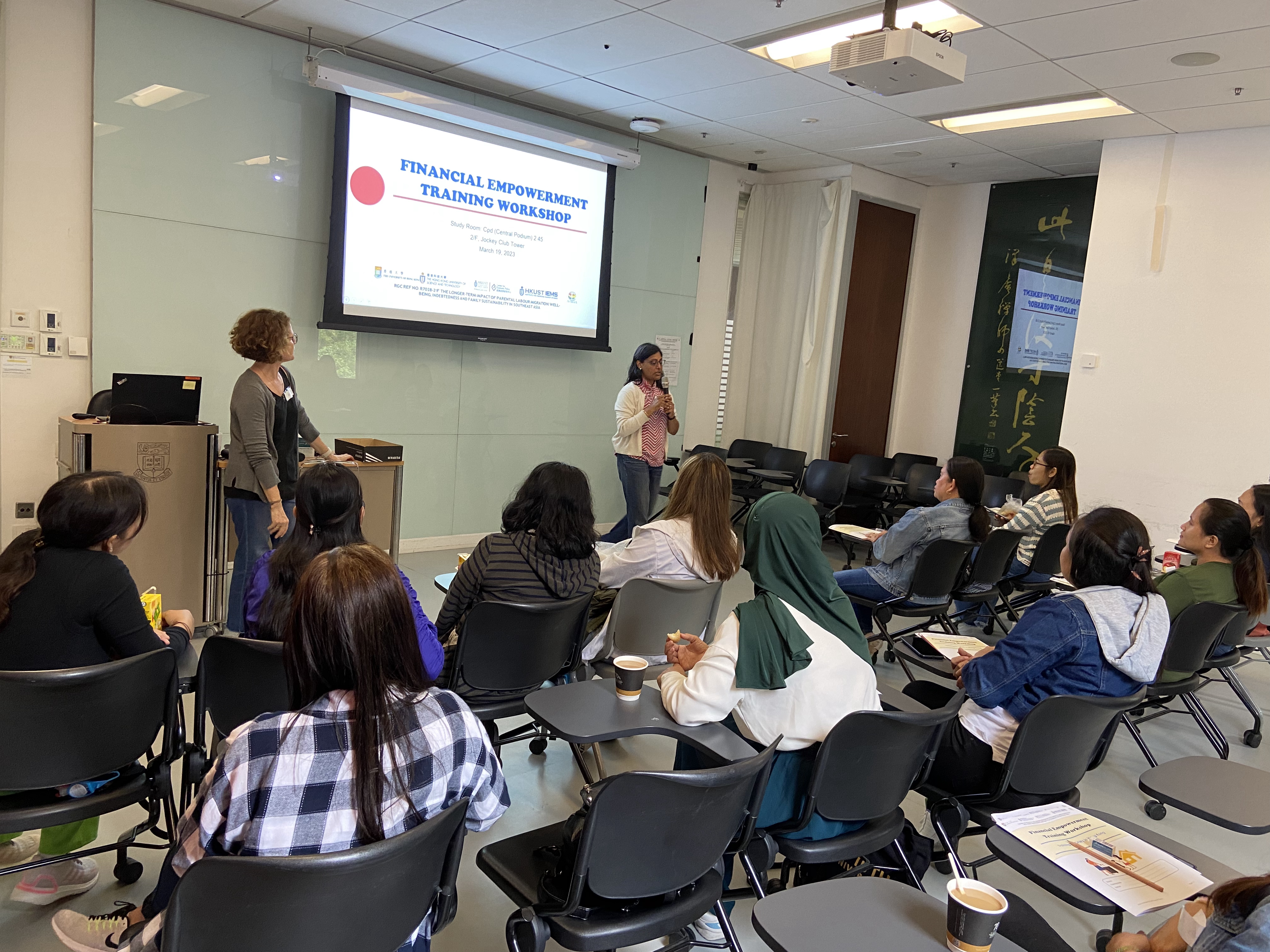 Financial Empowerment Training Workshop
List of participants at the Roundtable meeting
 

NGOs

Representatives

1

Asian Migrants Coordinating Body /Indonesian Migrant Workers Union

Ms. Kak Sring, 

Spokesperson (AMCB), Chairperson (IMWU)

2

Mr. Dedy Kristanto, Board member

3

Atikha Overseas Workers and Communities Initiatives (The Philippines)

Ms. Estrella Mai Dizon-Anonuevo, Executive Director

Ms. Aileen Constantino-Peñas, Deputy Executive Director

4

Ms. Wong Siu Wai, Senior Social Work Supervisor

Ms. Ho Hei Yin, Mary, Welfare Worker

5

Sr. Corazon Demen Demetillo, Directress

6

Ms. Medya Putri, Board of directors

Mr. Muhammad Imam Baihaqi, Manager

7

Mr. Bradley Aaron, Executive Director

8

Ms. Lucinda Pike, Executive Director

Ms. Tynna Mendoza, Director of Programmes

9

Ms. Vivian Gee, CEO

10

Filipino Nurses Association HK (FNAHK)/ Kasambuhay /Domestic Workers Corner

Ms. Lorna Pagaduan, President (FNAHK), Trainer (Kasambuhay)

11

Ms. Mahee Leclerc, General Manager

Ms. Sunnah Faraz, Customer Relations Officer

12

Ms. Meng Wang, Organizing Secretary

13

Ms. Nisrina Muthahari, Legal Officer

14

Ms. Ratna Gill, Co-Founder

15

Ms. Fish Ip, Regional Coordinator for Asia

16

Ms. Johannie Tong, Community Relations Officer

17

Ms. Catherine Gurtin, CEO

Ms. Radha Shah, Senior Manager, Research & Policy

18

Ms. Nathalia Widjaja, Director

Ms. Anastasia Purnomo, Program Coordinator

19

Mr. Christopher Drake, Co-founder

20

Ms. Edwina Antonio, Executive Director

21

The National Confederation of Cooperatives (The Philippines) (NATCCO)

Ms. Lasalette Gumban, Unit Head

22

Ms. Asnah Subian, Programmes Manager
| | | |
| --- | --- | --- |
|   | Researchers | University |
| 1 | | Department of Sociology, Hong Kong Baptist University |
| 2 | | Department of Humanities & Creative Writing, Hong Kong Baptist University |
| 3 | | Department of Sociology, The University of Hong Kong |
| 4 | | Center of Population and Policy Studies, Universitas Gadjah Mada, Indonesia |
| 5 | | Department of English and Communication, The Hong Kong Polytechnic University |
| 6 | | Department of Social Work and Social Administration, The University of Hong Kong |
| 7 | | Center of Population and Policy Studies, Universitas Gadjah Mada, Indonesia |
| 8 | | Department of Social Work, The Chinese University of Hong Kong |
| 9 | | Department of Economics, The Hong Kong University of Science and Technology |
| 10 | | Center of Population and Policy Studies, Universitas Gadjah Mada, Indonesia |
| 11 | | Department of Social Work and Social Administration, The University of Hong Kong |